Saturday was the big furniture shipment day. The movers arrived around 9:30 a.m. The movers behaved oddly, in my opinion, but we eventually got them out. The day will be shown in pictures! So follow along… 😉
The Living Room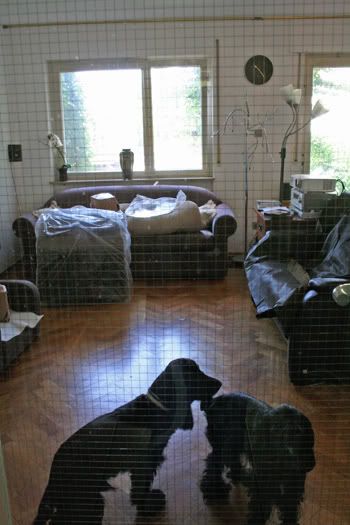 The couch comes whole, but the chairs require some assembly. The dogs are good about the new furniture.
Assembled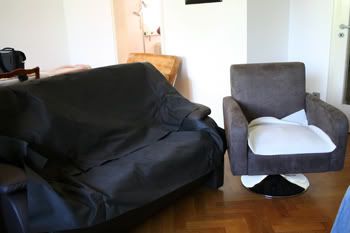 The couch and chairs still are covered in case doggies are interested in them, but so far so good.
Testing the Chairs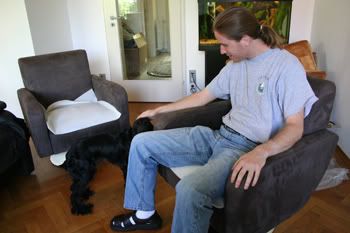 Herr tests the swivel chairs while petting Ruby.
Ruby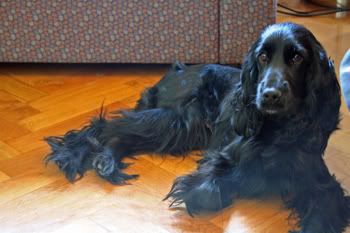 Ruby watches us try out the new chairs.
Tommy eats Plastic


Okay, not eats it, but he chews on it. Anything he can fit in his mouth… *sigh* No, he doesn't swallow it, or else we wouldn't let him play with it.
Bookshelves in Boxes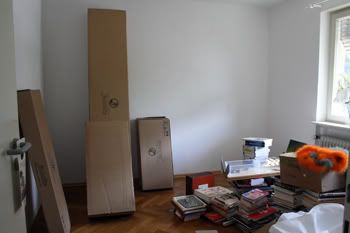 Now up to the library. The living room arrangement will have to wait. The library has been acting as a warehouse until now.
Tommy Watches the Construction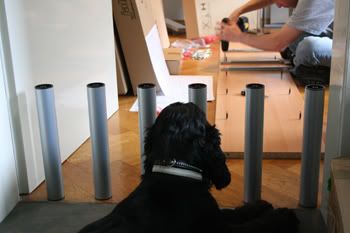 I constructed a little barricade to keep the dogs out while Herr puts together the most complex bookshelf.
Putting it together


Shelves are starting to come together. Looking good, Herr!
Ruby Lounges with Me in the Hall


We all watched Herr from the hall. My turn was coming up.
The Library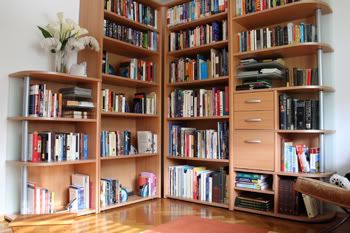 Herr built the fourth bookshelf in the hall while I shelved the books. Some sections still need work, but at least they are off the floor!
The Library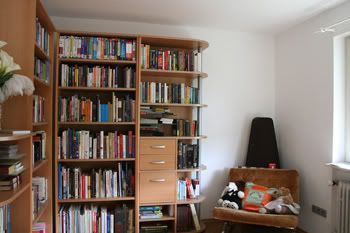 The chairs are in, the carpet is down, now we just need the paintings on the wall! Oh, we are still missing the last bookshelf piece, but looks like we can manage for now. 😉
Oh, Sunday morning the dogs were actually playing together!! This is the first we have seen them do this, so we're very happy. Up until now, Tommy has been less tolerant of Ruby by growling or stealing attention. They both try to steal attention now, but at least they recognize each other! Yay! 😀 Still having issues with dogs making messes at night, so we're going to give them longer yard time for the last call of the night. Hopefully I don't have to clean up poo or pee tomorrow morning. *sigh*
Yay for new furniture though! I'll take more pictures when we have the living room put together. We have to rearrange and move the temporary furniture out of the way. We have ideas how to arrange it, but we have to try it out now. Time to take the dogs for a walk.