Slacking in the updates, so I will make them brief. I spent Christmas down in Oklahoma; it was so wonderful to get away from all the stress! The best present was from Hoyt… a Canon Rebel XT with cute little carrying case and usb memory card adaptor. 😀 The big memory card just came in today so look out! because I am totally learning how to use this. :-p
The week following was engulfed with packing, followed by a move my colleagues graciously helped me with. I totally could not have done it without them, and even with the help I was out of commission for oh… two days… thank goodness for the three day weekend! The place is still in boxes, but Hoyt is coming up this weekend to help put the electronics together, yay!
Okay, and for the most recent super awesomeness! I had asked
from DeviantArt all the way back in August if she would be willing to create one of my characters (I write many stories, do not finish as many though…) for a promising story. Today she posted it to her account. The character's name is Elanaii. I am so happy Shirotsuki was willing to work on this!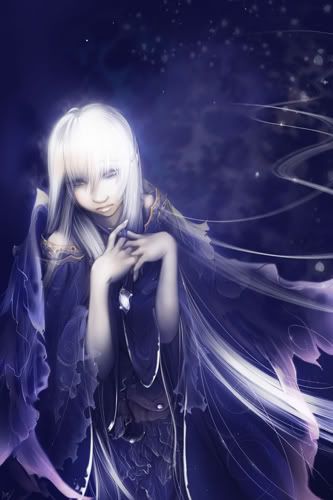 Not only did I get a great piece of artwork, but I got a lot of views to my own profile. What an awesome result! Oh yeah, and my airline tickets to Japan came in the mail today… do you feel the excitement building? Sweet!